Tire Aging – Why It Matters to Your Safety and What You Can Do
You don't have to be an expert to know that tire blowouts or failures are downright dangerous.  A front tire blowout on a passenger car at interstate speeds is not something I even want to think about – especially not on a family trip, which many folks are taking this summer.
The last federal government study says that 84% of tire-related accidents are caused by tires six years or older, and that 77% of those accidents are in hot-climate states.  With temperatures consistenly in the upper 90s all summer, I don't have tell you how hot our hot-climate state is.  Yet, as Sean Kane, a leading vehicle safety expert, has explained in his blog post, no one is doing anything about it – not the industry and not the government, which shouldn't surpise you.  They are all sitting around wringing their hands, or debating about what to do, without ever doing anything even though the facts are clear.
Consumers have few self-help measures.  Tires can "look" good, but be dangerously old.  Even some tires sold as new don't cut it.  Further, it's extremely difficult for consumers to determine whether their tires have been recalled.  Tire labels are not easy to decipher.
So, what can you do?  First, learn to read the code on your tire.  Here is how to read the label: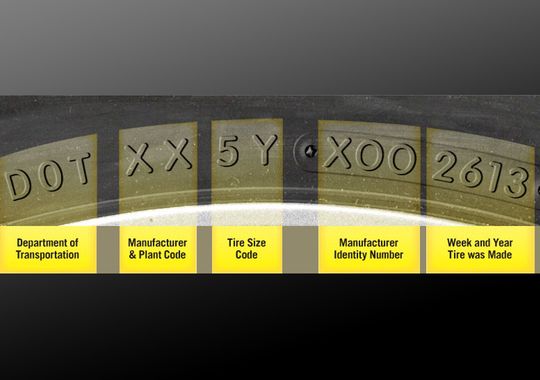 If your tire is more than six years old, I'd highly recommend replacing it – ASAP.  If you go to buy a tire and you cannot determine its age, I'd pass.
The other thing you can do is learn how to check for recalls.  I said it wasn't easy, and it isn't.  You can learn how to do it here.  After reading that, I'm certain you will realize that it really shouldn't be all that difficult to find out whether a product you are relying on to safely transport your family has been recalled or not.
If you've got any other questions about tire aging, or tire safety, please contact me or hit me up in the comment section.  I'll do my best to answer your questions or direct you to the right person or place if I cannot.